GpsSimul
GPSSIMUL generates GPS NMEA-0183 output sentences at any serial communications port (COM1-COM-n) available in your PC.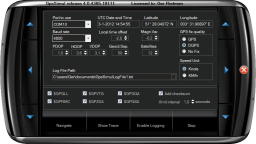 Benefits
GPSSIMUL is a very useful tool for developers of PC-GPS applications since it eliminates the need for a real GPS unit during developing and testing. But it is also useful for people that want to test or demonstrate any NMEA compatible device like autopilots and chart plotters. It is a great tool for any situation where you need dynamic GPS input but have no real signal available. Compared to NemaTalker it has less functionality, since it does only GPS, while NemaTalker can simulate many more instruments. See also the comparison page to find out if you can do with GPSSimul or if you need the more versatile NemaTalker or NemaStudio for professionals.
GpsSimul V4 has an attractive graphical user interface with up/down buttons to dynamically alter course, speed and altitude while running.
To read the generated NMEA 0183 sentences of GpsSimul into your application you can use a null-modem cable to interconnects two physical serial ports, or you can use so called virtual serial ports when GpsSimul must run on the same PC as your application. For more details check out this blog article.
Supported NMEA sentences
GPSSIMUL V4 supports the following NMEA sentences: GGA, GSA, GLL, RMC, VTG, ZDA, so it can be used in combination with many popular GPS mapping programs available. All generated sentences can optionally be logged to a file for later reference.
Screenshots
For two screenshots of GPSSimul please click here.
Download
Go to the download page to download and install a full functioning free trial of GpsSimul. The only limit in the trial version is that it outputs a maximum of 100 NMEA 0183 sentences.
License
You need to purchase a license to lift the 100-sentence trial limitation. Please click here to obtain a license.
Download a fully functional trial version by clicking the button below:

To obtain a license to lift the 100-sentence limitation of the trial version, click the button below.